We offer in office and mobile podiatry (footcare) group serving the counties of Fayette & Coweta GA.

We understand that it is not always easy to get to a doctor's office. So give us a call today to schedule your in home appointment.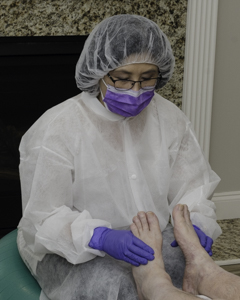 Coronavirus (COVID-19)

To our valued patients:

The news of the evolving nature of the Novel 2019 Coronavirus (COVID-19) pandemic have generated profound concerns for everyone. At Stride Anew, LLC, the health and safety of our patients and associates are of paramount importance. We continue to do our best to take all the precautionary measures to protect your health and safety. We have implemented additional policies and procedures to our homecare services so we can do our part to flatten the curve of COVID-19. The following protocols will be in effect immediately:

• If you are experiencing (or have experienced within the last two weeks) a cough, runny nose, or difficulty breathing, please call 855-722-3338 to reschedule your appointment.

• If you or anyone in your family has traveled outside of the US, and/or cruised in the last two weeks, and/or been around someone possibly infected with the virus, please call to reschedule your appointment.

• To minimize exposure, we ask that when possible the patient be in a separate room of the house prior to the doctor's arrival.

• We request that the patient be prepared for his/her footcare visit and practice proper hand hygiene and wear a mask when interacting with our Physician and Medical Assistant.

• Our Physician and Medical Assistant regret that they will not shake your hand when introducing themselves but will ALWAYS deliver exceptional care with a smile.

• All our instruments are sterilized in separate packs for your health and safety. We will continue sanitizing frequently used instruments and equipment as our standard protocol.

• Vitals including forehead temperatures will be taken at the beginning of the appointment. If fever is identified or if there are other concerning symptoms, we will reschedule your appointment.

• Clean and disinfected pens for signing documents will be available, but we highly recommend that you use your own pen when possible.

• Finally, we kindly ask that patients and family members not request for free gloves, masks, or hand sanitizer as we need to conserve these for our dedicated medical team – especially considering the recent shortages. Stride Anew, LLC will continue to adhere to the recommendations set forth by the CDC, state, and local officials regarding COVID-19. We will also continue to follow the recommendations of our affiliated hospitals and surgical centers.

We appreciate your understanding and patience as this crisis continues to evolve. It is our pleasure to serve this great community, and we know we have the strength to carry on during this unprecedented time in history.

Please call us with any concerns.

Thank you!
Dr. Angeline D. Dy & Staff


Mission
Dedicated to providing footcare services with exceptional quality and professional foot care services with compassion. In order to do this we encourage active patient engagement, education, and prevention.
Vision
Optimizing foot healthcare and wellness now and for your entire lifetime.
We strive to keep you walking one step at a time.
Home – Services – Our Story – Newsletters – FAQ – Contact – Call 855-722-3338