Our Life-Changing story began with Dr. Angeline D. Dy's desire to pursue her doctorate in podiatric medicine which stems from her personal experiences. She is genuinely passionate about caring for people and an advocate for health and wellness. She believes in education and prevention that will empower patients to optimize their foot health and overall health and wellness.

During her high school years, she was involved in track and field where she ran cross-country, indoor, and outdoor girls long distance running events. As she continued to run and compete, she experienced foot pain and subsequently underwent foot surgery. She pursued a pre-medical curriculum and completed her undergraduate degree at Douglass College of Rutgers University in New Brunswick, New Jersey.

Her interest in medicine and the specialty of the lower extremity propelled her to pursue studies in Podiatric Medicine at the Temple School of Podiatric Medicine in Philadelphia, Pennsylvania and earned a degree in Doctor of Podiatric Medicine, (DPM). She completed three years of rigorous residency training, first at The Hunter Holmes Veterans Affairs Medical Center and then at Crozer-Chester Healthcare System.

She then started her own private practice in Pennsylvania. She has also worked at various military treatment facilities overseas and in the United States while her husband was serving in the US Air Force.

They now call Peachtree City, GA home to be close to family. On her free time, Dr. Dy spends time with her husband and daughter as well as her family. She enjoys long walks, biking, cooking, baking, reading, and of course shopping.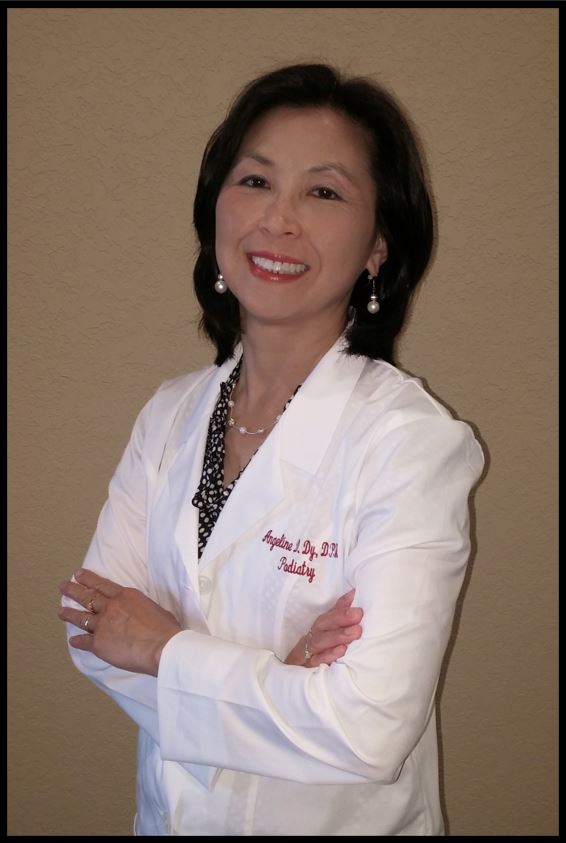 Education / Board Certifications
Douglas College of Rutgers University, BA Biology
The Temple School of Podiatric Medicine, DPM
The Hunter Holmes Veterans Affairs Medical Center, GP Residency
Crozer-Chester Healthcare System, Surgical Residency
American Board of Multiple Specialties in Podiatry for the Treatment and Management of Diabetic Foot and Footwear.
American Board of Quality Assurance and Utilization Review Physician for CHCM
Professional Memberships
Home – Services – Our Story – Newsletters – FAQ – Contact – Call 855-722-3338